We sell the maternity record of eight languages.
It is also shown in the two languages ​​of the record page handbook based on the Ministry of Health, Labour and Welfare.
English/Hangul/Chinese/Thai/Tagalog/Portuguese/Indonesian/Spanish/Vietnamese/Nepalese

One book of price ¥880(Tax included)
Postage ¥440(Tax included) ※Shipping will take separately.
How to Buy
You can purchase it using the payment slip you have placed in the post office.
We will ship the goods once we confirm payment.
It usually takes one to three days until payment is to confirm.
Entry example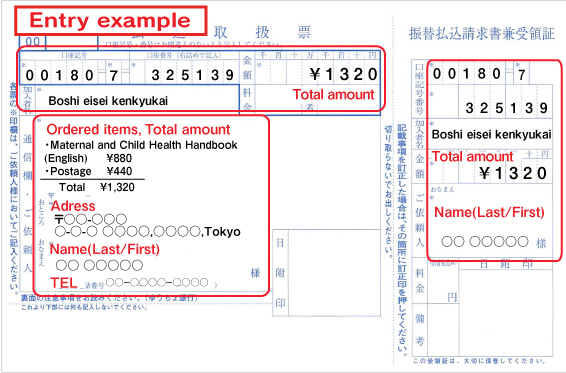 Information
The video series "Parenting in Japan" give you the information about giving birth and raising your child in Japan for foreign residents.
subtitles:English/Chinese/Tagalog/Portuguese/Spanish/Vietnamese/Nepali
Series 1: Parenting chart for foreign residents
Series 2: What is the Maternal and Child health handbook (Boshi Techo)?
Series 3: Home visit to mother and child

【Mothers' and Children's Health and Welfare Association】 2-18-7 Sotokanda,Chiyoda-ku,Tokyo 101-8983 Japan
TEL 03-4334-1188
FAX 03-4334-1181